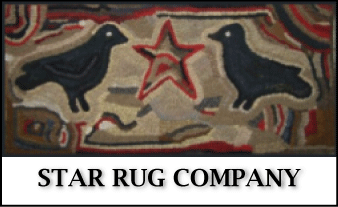 Ordering and Pricing

To place an order, complete the form below and return it via mail or e-mail.

Star Rug Company
Attn: Maria Barton
6191 Link Drive
Indian River, MI 49749

Phone: (231) 238-6894
Email: davemariab@sbcglobal.net

A complete price list for Star Rug Company designs is available below**. All orders include a pattern, hand drawn straight on the grain upon high quality linen with at least a four (4) inch border on all sides. A color photo of the finished rug is also included for your reference.

**Teachers and rug hooking businesses, please contact Star Rug Company to learn more about our wholesale discounts.

STAR RUG COMPANY

PRIMITIVE HOOKED RUGS AND PATTERNS

(231) 238-6894
davemariab@sbcglobal.net